By Larry Ander­son for the InTheSwim Blog.
The pool in your back­yard is the crown jewel, the focal point of every sum­mer day, but now you're sell­ing your home and that jewel could be some­thing of a thorn in your side. You know what it takes to keep your pool clean and nice, but prospec­tive home buy­ers list pool main­te­nance as their largest con­cern, along with pool safety.
In fact, depend­ing on the area of the coun­try you live in, hav­ing a pool in your back­yard is seen as an "absolute must-have" when sell­ing your home. Realtor.com men­tions 10 best cities for homes with pools, and those cities are all in warm weather, sunny regions like Florida, Texas and Ari­zona where pools are open and used year-round. (Not so much when it comes to swim­ming pools and home sales  in the Pacific Northwest!)
Real estate agent Phil Rotondo in Mel­bourne, FL, agrees with this cir­cum­stance (as taken from Trulia.com), "in nor­mal instances in Florida, we add $25-30K to the value of the pool home vs. non pool home."
So you live in Michi­gan and want to sell your home with a pool, what do you do? We put together some ideas on what you can do with your pool to make your house more mar­ketable to more people.
Advice On Sell­ing Your Home With A Pool
Be Pre­pared. As a seller, you need to have a plan in place on how to han­dle poten­tial neg­a­tive views of hav­ing a pool before you even list your home for sale. Start with being hon­est with your­self and your pool appear­ance. Pool, deck and equip­ment should be spruced up by a deep clean­ing and replace­ment of caulk, grout, and worn or bro­ken pool parts. Trim over­grown trees to bring in more sun­light and reduce debris. Fix sag­ging gates or lean­ing fence posts. Make the pool appear bright & clean, low-maintenance, and safe for children.
Open the Pool. A closed, cov­ered pool brings a lot of ques­tions and worry in the eyes of home buy­ers. "A home with a pool is always more sal­able when the pool is open", Mike Christof­fel, owner and bro­ker of MBC Real Estate Group in West Chicago, explains. "The idea of open­ing a pool is intim­i­dat­ing for a buyer, and can be over­whelm­ing. If it is ready for a swim the day you close, that stress can be ignored until it is time to main­tain the pool." For pools that are closed dur­ing show­ings or con­tract nego­ti­a­tions, an offer can be writ­ten into the agree­ment that the seller will pay for a pool open­ing and inspection.
Time it Cor­rectly. The best time to sell your home with a pool is when the weather heats up. Get your pool ready to go early in the sea­son and have it look­ing pris­tine as pos­si­ble for every show­ing. "When it's warm out, a buyer who doesn't want a pool is more likely to be seduced by an invit­ing pool," Christof­fel says. And also make sure that you plan for any repairs to get the pool ready. "If your real­tor can adver­tise with con­fi­dence that the pool is in fan­tas­tic shape, they can draw in more non-pool buy­ers as well."
Pro­vide a Pool Binder. Hav­ing every­thing it takes to open, main­tain and then close a pool thor­oughly explained and neatly typed for prospec­tive buy­ers can save a good deal from going bad. A Pool Binder con­tains every­thing about the pool equip­ment, with detailed infor­ma­tion show­ing them exactly how the pool oper­ates. Ser­vice records, chem­i­cal records, ren­o­va­tion and replace­ment work done, shows buy­ers you've cared for your pool which gives them con­fi­dence and alle­vi­ates some of the worry. Remem­ber that pool main­te­nance and safety are often their largest con­cerns. Offer a com­plete pool ori­en­ta­tion to the buyer, as well as pro­vid­ing names of rep­utable ser­vice companies.
Con­vey your Pool Gear. This is one thing home sell­ers often over­look. Have the pool chem­i­cals, pool equip­ment and pool acces­sories you've pur­chased be a part of the deal. First go through all of your pool sup­plies, and throw away or dis­pose of bro­ken or unus­able parts or prod­ucts. Orga­nize and clean-up your pool sup­ply stor­age areas to make it eas­ier to understand.
Con­sider includ­ing your trusty robot pool cleaner, pool floats or pool fur­ni­ture or other pool acces­sories that make pool main­te­nance eas­ier or the pool more enjoy­able. If you have pool alarms, remov­able fenc­ing or pool safety cov­ers, be sure to men­tion that to prospec­tive buyers.
When is Installing a Pool Worth the Money?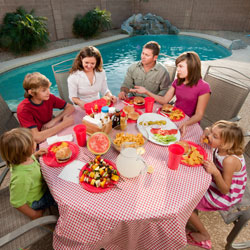 Let's start by say­ing that you should enjoy life, and if you want a pool, then get a pool. Pools are a whole lot of fun, refresh­ing, a source of great exer­cise (don't tell the kids that), and make mem­o­rable moments that last a lifetime.
Ask any­one who had a pool grow­ing up, and they'll tell you all about the good times they enjoyed on end­less sum­mer days in their back­yard pool.
On the more "busi­ness side" of get­ting a pool, there are a cou­ple of things to con­sider that might help you make a deci­sion about installing a pool:
Your Neigh­bor­hood. If every home that is com­pa­ra­ble to your home has a pool and yours doesn't, that could actu­ally work against you. Here, HouseLogic.combest explains if many home in your neigh­bor­hood have a pool and yours doesn't, you might be leav­ing a lot of poten­tial buy­ers out of the run­ning. Check your Comps – to know what other homes with pools are on the market.
Your Mar­ket. Homes on the lux­ury end of the value spec­trum tend to have big­ger yards. Accord­ing to Christof­fel, a lower-priced, but attrac­tive and well-kept home most likely has a smaller yard. If you install a pool in a smaller yard, the pool will also have to be small or it will take up a siz­able chunk of usable space in the yard. That same-sized pool in a big­ger yard in a more expen­sive neigh­bor­hood will take up much less real estate mak­ing the house, and yard, more attrac­tive to buyers.
Your Cli­mate. Pools in warm south­ern cli­mates (grow­ing zones 9 and 10), have their pools open year around, but here in Chicago, and points north, the pool sea­son is only 4 months long. Those in the mid-section of the coun­try enjoy a swim for 5 or 6 months out of the year. It makes sense why swim­ming pools are more com­mon in the south, how­ever, there are still mil­lions of pools located in north­ern states.
Com­ments
comments
Pow­ered by Face­book Comments